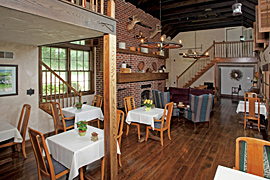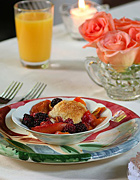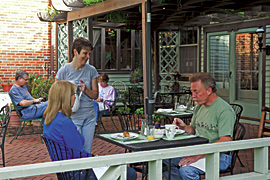 Our full country breakfasts only rival our guestrooms and facilities in popularity. Breakfast is served both in the Great Room and, in season, on the terrace. The dining area features individual tables. The selections vary from day to day. One of our delicious breakfasts features Minted Citrus, Stuffed French Toast with Apricot Sauce, Sausage, and Chocolate Chip Banana Muffins. Another features Warm Fruit Compote, Crepes Suzinn with Bacon Garnish, and Sour Cream Streusel Coffeecake. Crepes Suzinn is our signature dish, a homemade egg and bacon filled crepe topped with melted cheddar cheese mixed with toasted onion and fresh chives. Coffee, tea and juices are always included, of course. Special meals are available for guests with low fat, restricted, or vegetarian diets. Complimentary hot and cold drinks available 24 hours a day.


40 Hospital Road, Gettysburg, PA 17325
(717) 337-1342


This site is designed, administered and hosted by Pelland Advertising.
© Baladerry Inn. All rights reserved.